Join the movement to create an eco-friendly habitat at your Chautauqua garden using a combination of milkweed, pollinators, nectar and other native plants. Sound complicated? Need help? Contact BTG and a Master Gardner can visit with you and develop a plan to implement a monarch way station chautauquabtg@gmail.com. Alternatively, access Monarchwatch.org and follow the steps on line to submit your garden specs for certification.
To certify your Chautauqua garden:
Follow the instructions on MonarchWatch.org
Contact BTG for a free garden consultation of up to 30 minutes. A master gardener will meet with you at your garden to talk about creating a monarch way station. With 'monarchwatch.org' as our guide (Approved by the Institution's Supervisor of Gardens and Landscapes, Betsy Burgeson), let's review the components of a monarch way station, and suggest a phased approach to achieve it over the weekend or over the years. It's all about native plants, milkweed, and more.
Email BTG at chautauquabtg@gmail.com and get in touch with Chris Flanders, the master gardener in charge of Butterflies & Blooms
Learn all about the movement to use native plans with BTG's Butterflies & Blooms program below.
Butterflies & Blooms
The Bird Tree and Garden Club is offering talks, gardening demonstrations, walks and lectures to help us all make our surroundings a habitat for pollinators and butterflies. Our mission statement is to promote and preserve the beauty of these grounds as well as its habitats and its ecosystems. With Butterflies and Blooms, we combine our programming to promote the beauty of our spaces with providing a safe habitat for all who need it. Your greenspace is home for not only your family but for a whole compliment of insects, butterflies, birds and four-footed animals.
The easiest way to think of changes or additions to your gardens is to follow the life cycle of monarch butterflies. These changes will also apply to most pollinators who are all at risk for extinction because of decreased wild space, pesticide use and weather changes. The food we grow, the air we breathe and the health of our planet depend on each of us looking differently at our surroundings. So, starting small is the easiest way to go. The butterflies need much the same to live as we do, food, shelter, sunlight and a place to mate (or socialize).
Certiying your Garden 101
HOME Garden
"HALL OF FAMErs"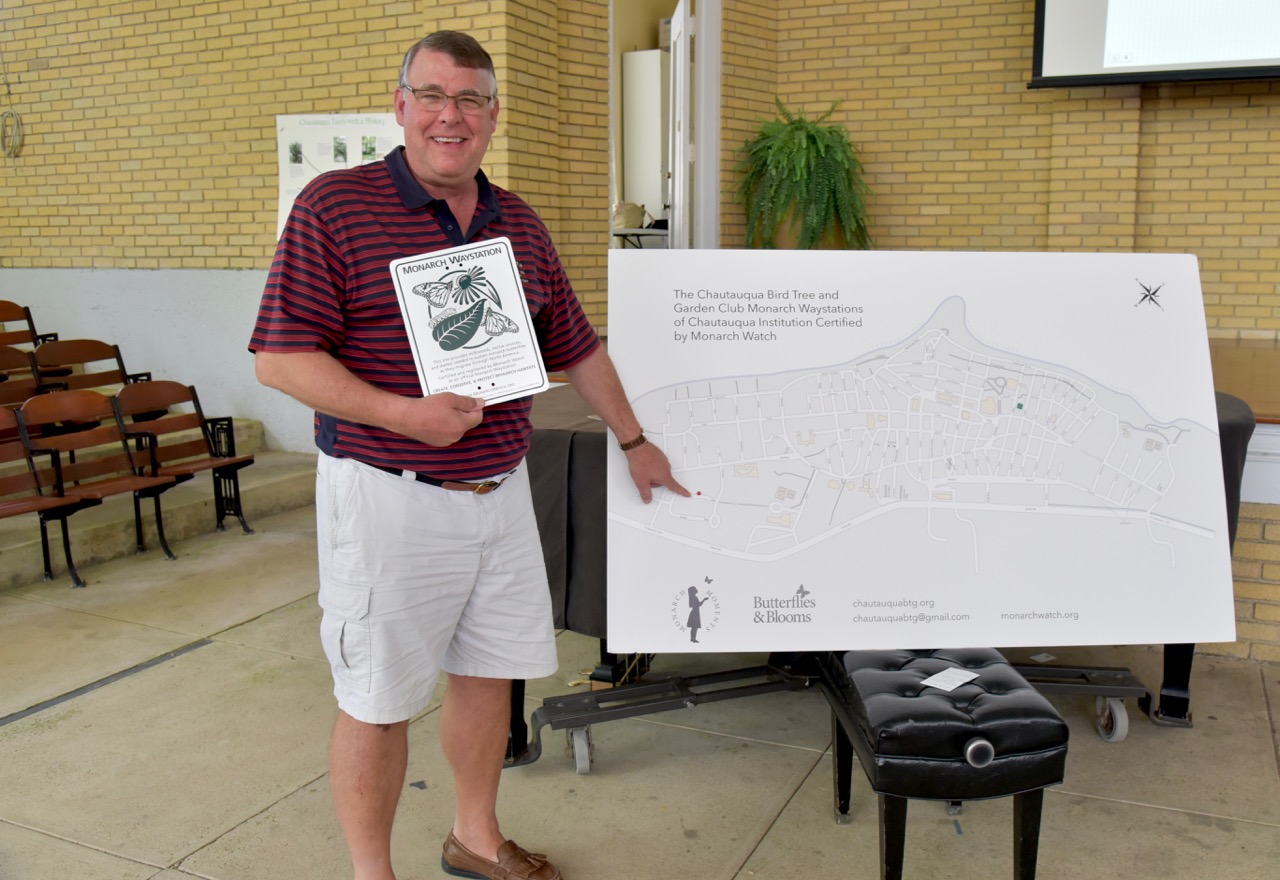 CERTIFICATION SELFIE
Chautauquans certifying their 'off grounds' home garden. Bravo! Take a Selfie with your certificate/sign and unique number then email it to chautauquabtg@gmail.com and join our 'Hall of Fame'! Or attend Monarchs and More Mondays 12:15 and be recognized! Thank You!!